Friday October 23, 2009

It is the 2nd day of our trip and we got about 4 hours of sleep. Today we were going to the White House and to the Capitol Building for a guided tour. We had to be at the White House by 9:15 am and our tour was at 9:30 am. We can't take any cameras or purses into the White House. So Lucy decided that instead of leaving our stuff in the hotel we should put my camera in her bag and check the bag at Union Station...then we can go back and get it after the White House Tour. Ok it is a 30 minute train ride from our hotel to the center of DC...so I go along with Lucy's idea.

So we hop on the DC Metro with our bag in hand....It' is a busy day for the metro. We arrive at Union Station at about 8:42 am....We navigate to the bag checking station and Yippee there was no one in line. So we head to the counter to check our bag and sitting on the counter is a sign that reads "be back in 15 minutes."

I tell Lucy..."We have to be at the White House in 30 minutes...if I miss the White House Tour because we had to check this bag...I'm going to be really ticked!" At 9:00 we got our bag checked and ran back to the train...heading to the White House.

We had to walk several city blocks from where we got off of the train to get to the White House...of course my map was in the bag, back at Union Station!" I'm panicking..it is 9:15 and I don't know where we are supposed to go to begin our tour. So we stop and ask a few folks where the tour starts...they replied I think you want to go to the White House Visitor Center...another block away. So we go to the Visitor Center and have to go through security and metal detectors...just to have them tell us we need to go back across the street for our tour.

I'm about ready to pull my hair out by this time...I've been waiting months for this and I'm going to miss it...all because Lucy had to check the bag!

It's 9:35 am and we finally get in line for the White House Tour. I'm stressing that they won't let us in....but everything worked in our favor....It just so happened that President Obama was getting ready to leave and the tours were behind schedule.

To my relief we were allowed in with the 10:30 am group. And we got to see the President leave in Marine One. What an experience...too bad I didn't have a camera!

The rest of our day was fairly relaxing...we went on a tour of the Capitol and saw most of the monuments that evening. And that was Day 2 of Lucy and Ethel's DC Adventure...To be continued...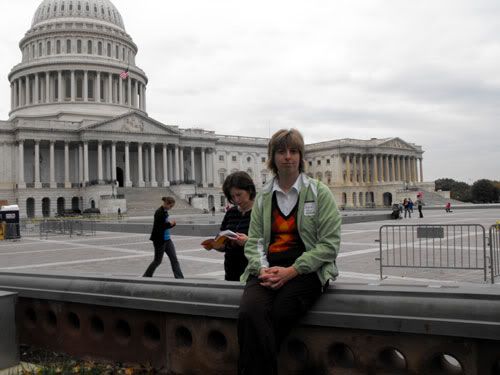 Me and Lucy at the Capitol.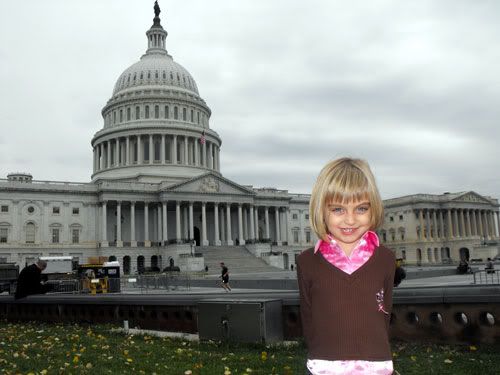 Alexis at the Capitol